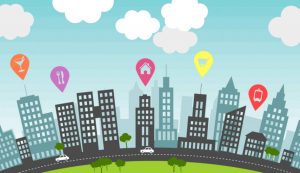 Whether you are the owner of a business or a doctor, lawyer, accountant or other busy professional, you want to get the best result from the money in your advertising budget. At CityPartners, we offer an online presence through our network of geo-targeted community websites which is the largest network on the East Coast.
We created and manage websites that focus on local cities, communities and neighborhoods with content that is unique and relevant to each location. For example, some of the ultra-targeted websites within our network include:
We can help you to design an advertising campaign that will allow you to reach as many or as few local audiences as you wish. The CityPartners system of geo-targeted marketing allows you to take advantage of our ability to promote your business or professional practice within the geographic area you desire. We do this by giving advertisers an online presence along with social media to help you manage and maximize impact of your marketing and advertising budget.
Before spending money on advertising with hit or miss results, contact CityPartners. If you tell us your goals, we can customize a promotional package to help you to meet them. We offer multiple banner options on each of our websites to maximize the exposure you want for your business or professional office.
Our premium advertising packages give you tremendous flexibility and offer you the ability to establish a local brand for your business or profession. The packages include one of our customized and geo-targeted domain names. Some examples of the domain names we offer are BrooklynCPA.com, QueensMoving.com, WestchesterLawyer.com and BronxAccountant.com.
Each domain name we offer can be combined with the following services:
Website designs that are SEO-engineered
Social media management
Management of paid media
Monthly inclusion in the CityPartners eNewsletter
Search engine optimization
For real estate brokers and agents, each of our 45 community websites features a real estate section targeted to the local audience. Real estate brokers and agents partnering with us are promoted as the exclusive real estate professionals for the region they select. This means a Kew Gardens real estate brokerage can become the exclusive real estate office promoted on our KewGardens.com community website.
Whether you are looking to attract a national audience or an audience in your local neighborhood, CityPartners can show you how geo-targeted advertising will get you the most exposure for your advertising dollars. Contact CityPartners to find out more about the advertising services available to promote the goods and services your business and professional practice have to offer. Call us today at (718) 512-1000.